Avraham Sultan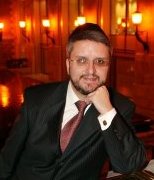 Rabbi / Cantor Avraham Sultan emigrated from Rabat, Morocco at age five with his family to Montreal. Three years later he started to sing as a soloist in weddings and concerts around North America and weekly in the Spanish and Portuguese Synagogue of Montreal choir under the leadership of Salomon Amzallag. By13, he was the acting Hazzan of the Jewish Center of Montreal.
As a young adult, he decided to combine his passion with formal education and training at the Shehebar Sephardic Center in the Old City of Jerusalem, Israel where he was ordained as a Rabbi, Shochet, Mohel, and Sofer by the Chief Rabbinate of Jerusalem.
Hazzan Sultan is a graduate of the Superior Conservatory of Music in Montreal. A Lyric Tenor, he is one of the few cantors in the world knowledgeable in the Nusach of Sephardic Moroccan Piyuttim, Yerushalmi and Ashkenaze. His teachers have included Cantors Salomon Amzallag, a known singer for the King of Morocco; Aryeh Ovadia; and Avrum Wilkominski, opera singer and Chief Cantor for the Israeli Army.
Understanding the incredible talent of Hazzan Sultan, Rabbi Sam Kassin, Dean of the Shehebar Sephardic Center, placed him at the tender age of 20, as the Chief Hazzan and assistant Rabbi of the Great Synagogue Tiferet Israel in Caracas, Venezuela in 1991. During that period, he also continued his concerts in North America and Europe. While in Venezuela, Rabbi Sultan was also in charge of kashrut standards and was able to invoke Cholov Israel standards.
In 1992, he became the community rabbi in Malaga, where he served as rabbi, Hazan and shochet. Since he was getting married, it was important for him to be in a place with a mikveh, so Rabbi Sultan decided to leave for another position. Shortly thereafter, the community built a mikveh, which is widely used today.
In 1993, Rabi Sultan moved to San Francisco, California, where he was the youngest rabbi and also Hazzan of Chevra Thilim, the largest Orthodox Ashkenazi Synagogue in the San Francisco and Bay area. In addition, he taught Judaic Studies at Hebrew Academy Day school. While there, he also wrote gittin (divorces), supervised kashrut for the hotels, wineries and facilities and had his own heckshir, and products under his supervision. He is proud of the kosher wine tasting he supervised, with the 50 kosher wineries under his supervision.
Five years later he returned to Montreal as the Chief Cantor at the Adath Israel Poale Tzedek Anshei Ozerrof Congregation where he served for the next 10 years. He taught at the Safra campus of Ecole Maimonides High School for the entire decade. During that time, he participated in many cantorial concerts and was able to develop different approaches to hazzanut using modern music and popular melodies from Broadway and opera. While in Montreal, Rabbi Sultan was chaplain for the Jewish Federation, where he counseled members and lectured on medical ethics for six years.
Hazzan Sultan was first vice president of The Council of Hazzanim Ashkenaze of Montreal, and vice president of The Sephardic Association of Hazzanim of Montreal.
Since 2007, Cantor Sultan is the Senior Hazzan of Shaarei Shomayim Congregation in Toronto, the largest Orthodox congregation in the city with 300,000 Jews. As the only full time Cantor in the city, Rabbi Sultan brings warmth to his congregation through singing and inclusion of children. He is responsible for conducting services on Shabbat, High Holidays, and festivals. Cantor Sultan also participates in all religious and life-cycle events, including bar and bat mitzvahs, weddings, brit milot, funerals, and unveilings. In addition, he taught Talmud and coordinated Tehilah for middle school students at Associated Hebrew Day School.
In 2010, Chazzan Sultan was nominated as vice president of The Council of Hazzanim of Toronto. He is married to Raquel, and they are the parents of four beautiful boys, Yaacov, Gabriel, Yonatan and Ezrah.
Rabbi Sultan can be reached at rabbisultan1@gmail.com