Neal Kreisler
Rabbi Neal R. Kreisler, LT, CHC, USN, was born in the little town of Los Gatos, CA in 1963. He grew up in nearby San Jose, the youngest of four siblings, and attended local public schools. Neal studied Hebrew at Jewish Day School, and was heavily influenced at home by both political Zionism and a profound sense of Jewish national pride. Both Neal's parents were born in the Bronx, New York, and Yiddish was a daily component of life at home. His paternal ancestry is Hungarian, and maternal ancestry Russian-Polish.
Although an Ashkenazic Jew, it made sense for Rabbi Kreisler to study at Midrash Sephardi:  "Midrash Sephardi was a place where you could truly "be who you are" and maintain your personal individuality," says Rabbi Kreisler. "No one would get on your case for it. Also, my linguistic and intellectual predilections gravitate toward the Sephardic side, and I speak Hebrew with a Sephardic accent."
In high school, Neal joined the literary club, and regularly contributed poetry to the school's literary magazine. He began playing piano at age ten, and pursued advanced music studies at San Francisco State University. At age twenty-five, finally deciding to act on a childhood dream, Neal traveled to Israel, to study in a yeshiva for a short period of time. He ended up staying for ten years, the first five of which he spent at Shehebar Sephardic Center on Rehov Misgav Ladakh in the Old City of Jerusalem.
Naftali, as he is known in Israel, applied himself assiduously to the rabbinic curriculum at Midrash Sephardi, typically studying 12 hours a day. During the evenings, he devoted himself to the study of literary Arabic. Naftali was ordained Yoreh Yoreh by HaRav Shalom Messas, Sephardic Chief Rabbi of Jerusalem, in 1992, and by HaRav Yitzhaq Kolitz, Ashkenazic Chief Rabbi of Jerusalem, in 1994. He also received an ordination from HaRav Yehuda Getz, zt"l. He earned a high school teaching credential in Judaic Studies from Mikhlelet Lifshitz in 1994, completed a Bachelor's Degree in Education from Jerusalem College in 1996, and received his Master of Arts degree in Hebrew Bible (Miqra) from the University of Haifa in 1999. He wrote his Master's Thesis on The Theological Exegesis of Saadia Gaon's Tafsir in Relation to Targum Onkelos," an excerpt of which is published inMittuv Yosef, Yosef Tobi Jubilee Volume, The Center for the Study of Jewish Culture in Spain and Islamic Countries, University of Haifa, Haifa, 2011. Rabbi Kreisler has been a member of the Rabbinical Council of America (RCA) since 2000, and is currently enrolled in a Master's Degree program in National Security Studies through Naval War College, Newport, RI, College of Distance Education.
Rabbi Kreisler was commissioned an officer in the United States Navy in late 2003. Immediately upon completion of Chaplains School at Newport, RI, LT (junior grade) Kreisler reported to Naval Training Center, Great Lakes, Illinois for his first tour of duty. He was promoted to full lieutenant the following year.
Rabbi Kreisler has always worn two hats in his job as a Navy Chaplain. As a Rabbi, he attends to the specific needs of Jewish Sailors and Marines in the US Navy/Marine Corps fleet. But he is also "chaplain for everyone," facilitating the accommodation of all religious needs for a multitude of diverse faith groups.
While at Naval Training Center, Chaplain Kreisler conducted a thriving Jewish Chapel Program each Friday night at the Recruit Training Command, frequently attended by upwards of 60 recruits. Chaplain Kreisler also served as staff chaplain at Center for Surface Combat Systems, Training Support Center.
In 2007, Rabbi Kreisler transferred to the Operational Ministry Center at Naval Base San Diego, where he was immediately deployed to serve as a chaplain on a destroyer somewhere in the Pacific.
"The day I reported for duty, my boss took me aside and told me to pack my sea bag, I'm shipping out! I was terrified! I was hoping to have some time to date my girlfriend, who lived in Los Angeles. So I called her up and asked, "How much do you want to marry me? 'Plenty,' she replied. So we accelerated our marriage plans."
Soon Rabbi Kreisler found himself in Australia, dancing with Aborigines at a Navy public relations event, and chasing Kosher MREs (Meals Ready to Eat) all over the South Pacific. "I almost starved. One day the kosher rations arrived. The skipper called all the junior officers into my stateroom, and they gazed with fascination at the mysterious boxes of government issued kosher food."
In 2008, Rabbi Kreisler deployed as command chaplain onboard USS DUBUQUE (LPD 8) with 15th Marine Expeditionary Unit (15 MEU) to the Persian Gulf. "The Persian Gulf is beautiful. I would go out with the Visitation, Boarding, Search and Seizure (VBSS) team in their seven meter RHIB. I like to be with the troops. Plus, I speak Arabic, which came in handy out there."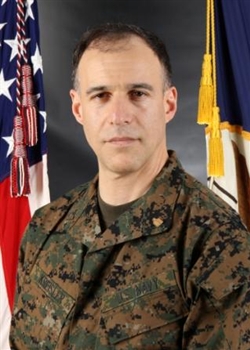 In 2010, Rabbi Kreisler was mobilized to the North Arabian Sea, where he conducted Pesach Sedarim for Jewish Sailors onboard the aircraft carrier USS DWIGHT D. EISENHOWER. He then transferred to 3rd Marine Aircraft Wing, Marine Aircraft Group (MAG) 11, and was promptly mobilized to southern Afghanistan to conduct Rosh Hashanah and Yom Kippur services in Helmand Province. Back home as group chaplain for the MAG, Rabbi Kreisler provides pastoral and spiritual support to eight fixed wing jet aircraft and support squadrons that include F-18 and C-130 Hercules aircraft.
Chaplain Kreisler's awards include the Sea Service Deployment ribbon, Global War on Terror Expeditionary Medal, and the Navy/Marine Corps Achievement Medal, gold star in lieu of second award.
"A rabbi in the United States Navy will encounter numerous challenges in the course of his Jewish ministry at sea," explains Rabbi Kreisler. "For example, how does one construct aSukkah onboard a warship in the middle of the Pacific Ocean? I borrowed some wooden target frames from the Marines (these were full of M-16 bullet holes). I then obtained some palm leaves from the Jewish cemetery in Hong Kong and schlepped them back to the ship. We built the Sukkah on the top level, perpetually wary of the high winds threatening to blow it down."
During High Holy Days in Afghanistan, the mesirut nefesh of the Jewish Marines was remarkable. One sergeant arrived at Camp Dwyer in the dead of night, in order to attend Yom Kippur services. He somehow made his way to the chapel, and slept outside on the ground in the freezing cold. The Marines removed their boots and walked around all day in combat gear wearing rubber shower flip-flops to observe the prohibition on wearing leather shoes. We broke the fast with kosher MREs and Baskin-Robbins Ice-cream at the DFAC (Dining Facility)."
"And how about crossing the International Date Line on a ship conducting maneuvers during a Jewish Festival? Talk about problems! That one almost drove me nuts."
Although Jewish military personnel in the US Navy and Marine Corps comprise but a small minority, yet Rabbi Kreisler always encounters Jews anywhere he goes, even in the most far flung corners of the globe.
"There is definitely a need for Rabbis in the fleet, and only a handful serve Navy-wide. But everywhere I go, I inevitably bump into Jewish Sailors or Marines. The rare visit by the Jewish chaplain in some far and lonely outpost can be a most memorable and uplifting event for our brethren serving in harm's way. It's a tough job, and a rabbi has to make a number of sacrifices indeed. But I never have to compromise my religious beliefs. Barukh Hashem, I found the role of a Navy Rabbi to be a most rewarding job."