SSC History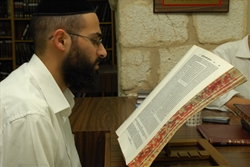 The Shehebar Sephardic Center (SSC) was founded in 1980 by Rabbi Sam Kassin, who was later joined by Rabbi Eliyahu Shamoula A"H, in the old city of Jerusalem. The center is named for Gabriel Shehebar, who supported the center in its initial years.
The SSC reaches out to neglected Sephardic communities throughout the Diaspora. By training and placing dedicated rabbis and teachers well versed in all aspects of Torah, Sephardic tradition and community relations, the SSC saves communities from assimilation and cultural extinction. These communities are provided with rabbinical leaders who are able to transform these communities into thriving Jewish centers. Each rabbi completes a four to five year course of study in Jewish law, education, Talmud kosher slaughtering, marriage and divorce, and mohelim (performance of circumcision required on the 8th day after the birth of a boy) so that these communities can sustain their rich heritage. In addition, the students must complete a leadership training program, which includes public speaking, substance abuse, philosophy, psychology, negotiation, and family counseling.
During the last three decades, the SSC has placed more than 150 Rabbis in struggling communities in such diverse locations from Kowloon, Hong Kong to Buenos Aires, Argentina, and from Barranquilla, Columbia to Capetown, South Africa. Each week the SSC is approached with a request for a rabbi at some community around the world. More than 20 congregations around the world have turned to the SSC in recent months with the request that for a qualified and well-trained Sephardic rabbi.
The SSC was founded on the belief that by training and placing rabbis qualified to teach Jewish law and tradition, they are saving save Jewish communities and providing Jewish continuity.