David Adatto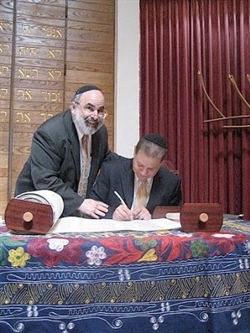 Rabbi David Adatto is of Turkish descent and grew up in San Diego, California. After graduating high school, he attended Yeshiva University of Los Angeles where he earned his degree in Judaic Studies. He attended the Shehebar Sephardic Center in
Jerusalem where he received his rabbinical ordination and certificates. Rabbi David Adatto has lived in Los Angeles since 1991, has two sons, one daughter and one granddaughter.
He served a small community in Houston from 1986 -1991 and then returned to Los Angeles where he began teaching in Maimonides Academy and served as Rabbi of Yad Avraham, a small Yerushalami outreach center and synagogue which was founded in a garage in Valley Village. As the community grew, it first moved to a storefront and in 2003 completed its own building in Valley Village and was renamed Congregation Shaaray Yerushalayim. Since then the community has grown tremendously and has attracted many Israelis, many who were non-practicing but had grown with the kehilah and eventually became Shomer Shabbat.
The synagogue features classes in Halacha every night between Minha and Arbit as well as Shabbat classes. During Seudah Shelishit, it is the members who give the Devri Torah.
Rabbi Adatto feels his greatest challenges is finding a way to make the community members who come from Turkey, Morocco, Israel, Egypt, Iraq, Iran, Syria, Greece, Afghanistan and other Sephardic communities and cultures, feel comfortable in the synagogue. His goal is to continue to strengthen the kehilah and integrate Israelis and American Sephardim into one kehilah where they can co-exist, mingle and show mutual respect for each other.