SSC Kowloon – Kehilat Zion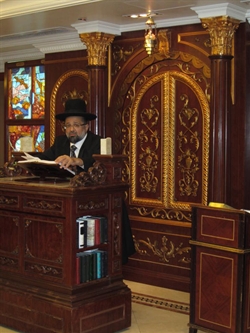 In keeping with our policy of spreading our glorious heritage around the world and catering to the needs of our community, Rabbi Sam Kassin and Rabbi Eliahu Shamoula of the Shehebar Sephardic Center opened a Syrian Bet Kenesset on the Kowloon side of Hong Kong in 2007. The Synagogue is conveniently located near all major hotels, just minutes away from the Shangri-la, Regent & Peninsula hotels.
SSC-trained Rabbi Netanel Meoded is the spiritual leader of the Hechal Ezra Kehilat Zion Synagogue of Kowloon, located at 62 Mody Road. Serving the local Jewish community, the synagogue is home to thousands of Jewish businessmen and tourists during their stays in Hong Kong. The synagogue has daily minyanim and kosher food.
Rabbi Netanel Meoded, along with his wife, runs the Synagogue and is actively involved in the daily operations of the community. Rabbi Meoded is a warm and friendly individual who is conversant with all the customs and traditions of the local community. He is pleased to assist you with all your needs during your stay.
The Tefila schedule is as follows:
Shabbat morning – 9:00a.m.
(followed by Kiddush and meal)
Mincha & Arbit – announced on Shabbat morning
(includes Seuda Shlishit)
Sunday Shacharit – 9:00a.m.
Contact Information:
Background
In 1996 the Shehebar Sephardic Center sent Rabbi Zion Cohen (OBM) a graduate of the rabbinical program to Hong Kong. He was sent there to help start a synagogue in Kowloon. Although a community already existed in the residential area of Hong Kong, there was a need for an additional synagogue in the business area of Kowloon. Kowloon is the hotel district. Many businessmen from all over the world would stay there for Shabbat and there was no place for them to pray and enjoy the Shabbat atmosphere.
Through the efforts of the Shehebar Sephardic Center and Rabbi Cohen, an office space was converted into a synagogue. We are grateful to Eddie Sitt and Jack Mamiye for their providing the space.
Although Rabbi Cohen passed away shortly after he began the project, his work lives on through the efforts of Rabbi Netanel Meoded. Rabbi Meoded, a warm and lively individual, is responsible for increasing attendance to an average of more than sixty people every Shabbat. The Rabbi and his wife host congregants for Shabbat meals. Their guests can expect a traditional Syrian feast and lots of singing and dibrei Torah. The Rabbi and his wife have made Kowloon, Hong Kong "a home away from home" for these businessmen.
The Hong Kong Jewish community has experienced rapid growth in the last decade. Today, Hong Kong's Jewish community is comprised of about 600 families from various parts of the world. Americans, Englishmen and Israelis constitute two-thirds of the community.
At this time, there are four operating synagogues, three of which have Rabbis. There is a mikvah (ritual bath) and two Jewish schools: The Carmel School for young children and the Ezekiel Abraham School for adolescents. There is also a Jewish Cemetery in Happy Valley, which is a historical site in Hong Kong.
Presently, Hong Kong's growth as a prosperous business hub has caused its Jewish Community to attract thousands of businessmen, including many Jewish families from the United States, Israel, the United Kingdom, Australia and Canada.