Manila, Philippines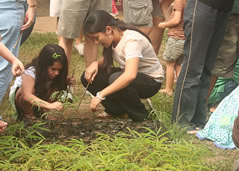 Beit Yaacov Synagogue is located in the heart of Metro Manila. The facilities include a Bet-Hakeneset, a Social Hall, a Bet-Midrash, a beautiful mikveh, the largest library in Southeast Asia, kosher kitchen and children's classrooms.It is the only synagogue in the Philippines. It is Sephardic and caters to Jews of all backgrounds. Rabbi Azaria is a Shochet. All foods prepared, served and sold in and by the Synagogue are under the strict supervision of the Rabbi and are strictly Kosher.
At the behest of Eddie Sitt, from Brooklyn's Syrian Jewish community, the SSC placed rabbis inManila. Both Rabbi Haim Talmid and later Rabbi Shlomo Attias stirred up interest and increased the level of observance. In 2005, Rabbi Eliyahu Azaria was sent to continue the work of his predecessors. They were all instrumental in the advancement and improvement and enhancement of the Jewish community life.
SSC Rabbi Eliyahu Azaria has revitalized and advanced the spiritual life for the Jewish community and visiting travelers. Daily services are held with a large attendance for the Shabbat and Festivals, following the Sephardic nusach. Lunch and dinner is served after services on Shabbat and Festivals, which is similar to what the SSC have established in Hong Kong and Shanghai.
Syrian Jews from New York form the bulk of subscribing members and financed the synagogue building. Business opportunity has been the main attraction for many of the Jewish residents. There are many business travelers and the Rabbi and his wife hold an open house every Shabbat.
The first Jewish school has so many children that a second Jewish school was opened.  There are less than 500 Jews (50 percent Ashkenazi and 50 percent Sephardic) in all the Philippines. But the devotion to religious life is outstanding.
Rabbi Azaria is a native of Chicago and he and his wife and two daughters moved to Manila after his study and rabbinic ordination at the Shehebar Sephardic Center in Jerusalem. He is a qualified shochet and also supervises the production of kosher cheeses. No kosher restaurant exists, but the synagogue provides for kosher meals. Many imported kosher products are available in the local supermarkets and a list is provided of all these products.
Rabbi Azaria is doing his utmost to insure the spiritual growth of the community, as more and more plans are put to fruition. The future is promising and the positive and dynamic spiritual leadership is a great factor in changing the quiet complacent past into a strong and powerful future.
The Jewish Community in Manila may be the only Jewish community in Asia that has its own locally slaughtered kosher meat and locally produced kosher cheese, and it may also be the region's oldest.
For anyone interested in more information on this community or plan to travel to the Philippines, please contact Rabbi Eliyahu Azaria at The Beth Yaakov Synagogue
110 H.V de la Costa center, Tordesillas West, Salcedo Village, Makati City, 1227, the Philippines. Tel: (632) 815 0263, or www.jewishphilippines.org