Martin van den Bergh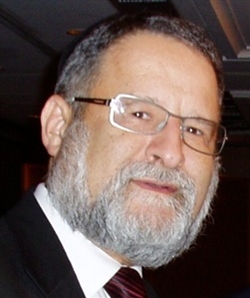 My name is Martin van den Bergh and I am an Orthodox Rabbi and have just been appointed as Rabbi of Childwall Hebrew Congregation in Liverpool. I, together with my wife Anna, am due to arrive in Liverpool at the end of February to take up my position. I have special expertise in pastoral and spiritual care, and have a PhD in pastoral care from Leeds Beckett University, having completed a research project which I designed on healthcare chaplaincy from a Jewish perspective. My academic journey also includes a B.Ed and an MA in healthcare chaplaincy from Leeds University.
I also take a very keen interest in Jewish continuity coming from a family that were very fortunate to have survived the Holocaust. Although I did not grow up in a religious home, I knew at an early age that I wanted to go into the Rabbinate. I fully subscribe to Judaism that is firmly based on Halacha, Jewish Law and the traditions of our forefathers, and which shows the beauty and meaningfulness of a fully Jewish way of life, without being dogmatic or judgmental. I recently received a message from a former congregant whom I encouraged to attend morning services once a week. He wrote that he now attends every morning and it forms a very important part of his routine. I also know of many people who first came to synagogue on Shabbat just to fulfil their security duties, to ending up being a part of the services inside the synagogue.
For more on Martin van den Bergh click here.