Rabbi Yossef Shushan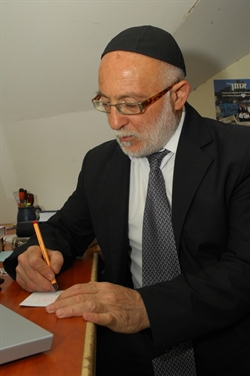 Moroccan born Rabbi Yossef Shushan came to Israel as a 3-year old. Following high school, he served in the Israeli Defense Forces as a paratrooper. He was promoted to captain in 1970 and served until 1974 before going into the reserves. Rabbi Yossi was a reservist for 25 years. In excellent physical shape from his military training, he often leads his students on various excursions throughout our Israel.
A graduate of Bar Ilan University with a B.A. in philosophy and psychology, Rabbi Yossi began with the SSC in 1982 as a rabbinical student. He received his ordination in 1990 from Rabbi Yakob Yosef (son of former Chief Rabbi Ovadia Yosef) and Rabbi Yakov Peretz.
An integral part of the SSC staff, Rabbi Yossi ensures that each student receives the individualized attention and mentoring needed to reach their goals and complete the SSC rabbinical training program. He makes sure the students keep up with the rigorous studies required and that they behave and conduct themselves in accordance with the ethics, moral guidelines and standards of the SSC.